In 2014, Minnesota Power celebrated its hydroelectric system as the company's historic Thomson Hydro Station returned to generating electricity. Thomson, the heart of the system for more than a century, was idled in 2012 after sustaining damage in record flooding of the St. Louis River and its tributaries.
Thomson is our largest station in a hydroelectric system capable of generating 120 megawatts of renewable energy. That makes us the largest producer of hydroelectricity in Minnesota. We operate 11 hydro stations on five rivers in northeastern and central Minnesota. In addition to maintaining dams at each hydro station, we also maintain six headwater storage reservoirs.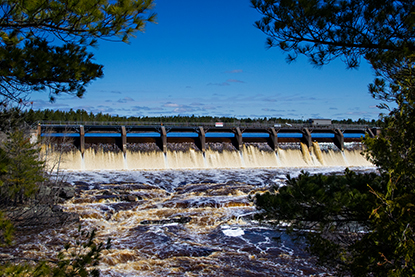 Our hydroelectricity plays a vital role in how Minnesota Power is meeting the state of Minnesota's renewable energy standards. Our EnergyForward strategy relies on hydropower, together with investments in wind, biomass and solar energy, to build a more sustainable energy future.
Since the flood of 2012, we have worked to repair, renew and modernize Thomson. Now, as Thomson generates electricity for a second century, we invite you to browse through this site to learn more about hydropower at Minnesota Power.