You could say that Minnesota Power is in it for the long haul when it comes to hydroelectricity.
Three of our 11 hydro stations—on three different rivers—have marked 100 years of service: Little Falls, on the Mississippi River in Morrison County, Minn., celebrated its centennial in 2006; Thomson, on the St. Louis River in Carlton County, celebrated its centennial in 2007; and Sylvan, on the Crow Wing River about 11 miles west of Brainerd, Minn., followed six years later in 2013.
Pillager, also on the Crow Wing River in Morrison County, Minn., is next in line to reach 100 years of operation. It will mark its centennial in 2017. Nearly all of our 11 hydro stations have been generating renewable electricity for at least 90 years. The equipment and infrastructure at our hydro facilities are designed and maintained to be in service for a long time.
In fact, many times the equipment is so durable it outlasts the people who operate it and are responsible for the routine maintenance. When it comes time to do major upgrades, it can be a little like opening a time capsule because those doing the work have never seen the equipment taken apart before.
Over the decades, maintenance and modernization projects have included generator rewinds, turbine replacement, gate replacement and refurbishment on dams, equipment automation, and many other projects. From routine maintenance to major modernization, the ongoing investments in our hydroelectric system are part of how we're moving toward a cleaner, more balanced energy future.
Several of our hydroelectric facilities underwent significant upgrades in recent years, including Fond du Lac, Thomson and Prairie River hydro stations, and the dam at Birch Lake Reservoir.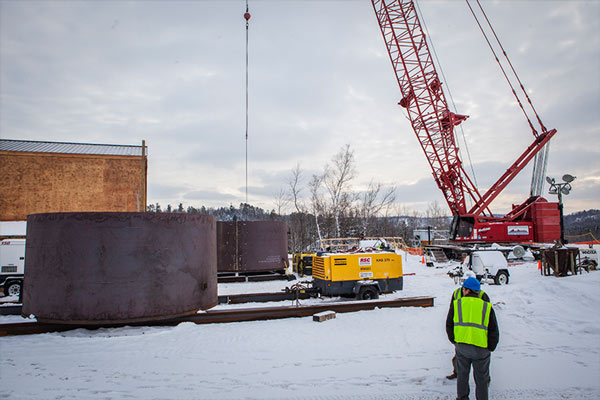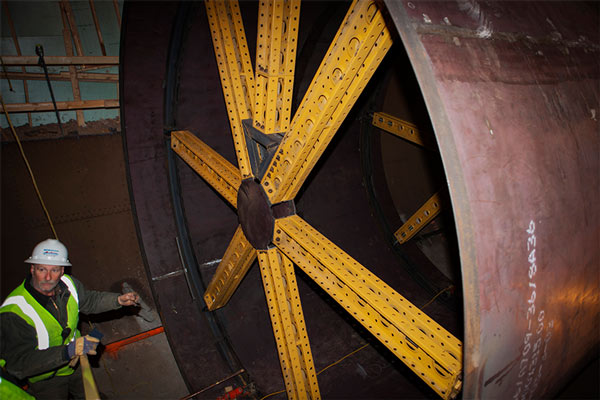 A new, more efficient turbine was the centerpiece of a major refurbishment at Fond du Lac Hydro Station. An $800,000 grant from the U.S. Department of Energy, part of the American Recovery and Reinvestment Act, went toward the replacement of the original turbine with a state-of-the-art steel runner. The remainder of the $8 million project included rewinding the generator, slip-lining the penstock and other modernization.
Replacing the original 18-foot-diameter penstock with a 16½-foot slip-liner was the largest such project of its kind in the United States.
The slip-liner, made of smooth steel segments, was slid into the original riveted steel penstock on rails and secured in place. The loss of 1½ feet in the diameter of the penstock won't mean a loss of generation capacity at the powerhouse. Water will flow more easily through the new smooth steel compared with the relatively rough interior of the original penstock.